---
---
The volunteers remember Kargyak
23. 11. 2015
A group of young architects set off on a journey to Kargyak. They helped wit a repair of the school roof and got involved in the local life. In a letter they remember their trip through the Himalayas.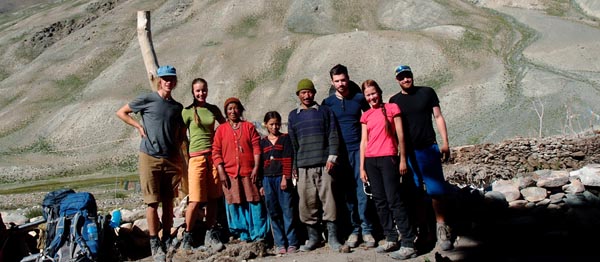 We are a group of friends who got together by chance. We all liked the idea to go to India in the summer, spend a few days in Kargyak and assist with what will be needed. We were two boys, two girls and we had one goal. The idea to visit India and Kargyak came from Tomas, who had once visited Kargyak. Tomas met the founders of BlueLand civic association on his treck through the Himalayas in summer |2012 and along with his friends, architect students, decided to stay in the village and help with the school construction.
A man falls easily in love with Kargyak and so it came into consideration when plans were born for another summer vacation. Coincidentally, it was the year when Gabriela and Michal had a newborn baby girl Veronika and couldn't go to Kargyak themselves. So, we gladly accepted the role of middlemen and became their "right hand".
Our story bigan at Prag airport. There we received letters, photos, instructuions and money. We got a box to be delivered to the Czech Embassy and thus we departed. In Delhi we picked another box with solar lanterns and set off on our journey up north.
In Leh, our first hill statiom, we passed over our first letter to Dr. Tundup and the adventure started. We were grateful that our letters opened many doors and hearts and we got into direct contact with the locals. Whomever we visited, eyes lit up when handing over the letter, photos of Veronika, greetings, fond memories from Czech.
On the way from Leh to Kargyak we met a young doctor who joined us. The locas in the villages were very excited about his presence and widely used his services. When we arrived to Kargyak we were welcomed by incredibly friendly people and the school keeper Nawang´s family let us stay at his home throughout our stay in Kargyak.
We went through all the necessary things from our list to do. We checked the school equipment, tested and checked the solar plant and we talked to the teachers about necessary equipment they will need for the next year.
Technically, the school needed to fix cracks in the roof to prevent leaking. The male part of our team took control of it and finished what was necessary. The ladies stayed with children, played guitar and played with kids whenever possible.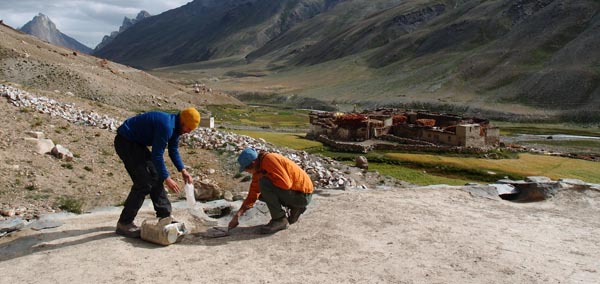 In addition to managing the stuff concerning the running of the school, we had a chance to get closer to our host Nawang and his daughter Lhamo . We spent evenings together, we tried to learn a few words from the local language Zanskari while Nawang studied how to use an ampermeter. We recorded a couple of local songs and taught the local kids how to play cards.
We will see next time, when we come back, how much did they adjust the rules. We didn´t want to leave the place at all, we've grown fond of all the villagers and we hope to be back again soon.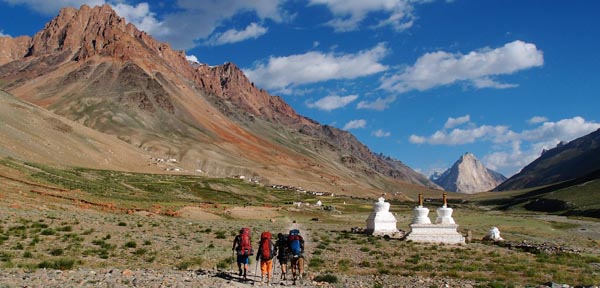 Jana
---
---