---
---
After the dusty desert there is a paradise
18. 4. 2014
Pavlina remembers how she played a puppet theater in Kargyak, taught children how to sew or created puppets.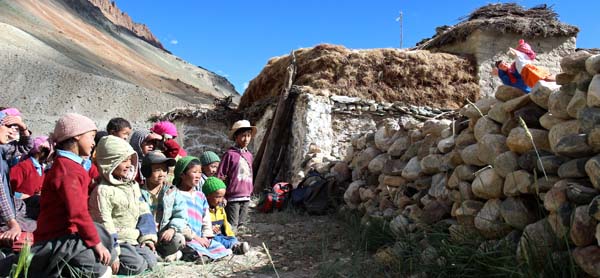 Pavlina, one of our volunteers, remembers her life in Kargyak.
Steely gray river rushing loudly though a valley, rows of blunt sharp peaks throwing shadows, on the horizon sacred mountain Gonporangjon. On a steep slope behind a lone clump of dry grass climbs a mountain goat with twisted horns. Endless beige desert, rocks, sand and ever present dust. Nowhere is to be seen a tree or a shrub. And an empty, deep blue sky - deeper than anywhere else in Europe.
Then the landscape changes, the desert turns green for a moment; small round fields begin to multiply with undulating green barley fields bordered by stone walls. Herds of goats start to appear, creeks crisscross the trails, around even grass grows, with blue and yellow flowers -after the dusty desert a paradise.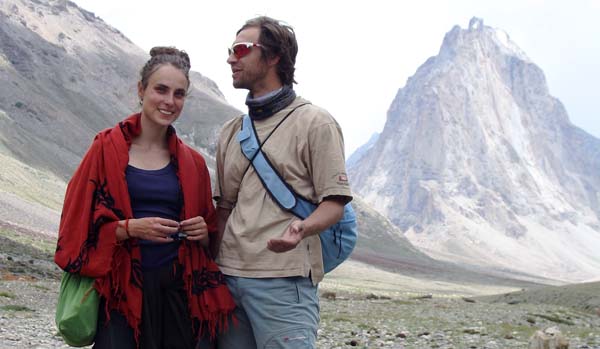 The last village in the valley is Kargyak. About twenty mud and stone houses imbedded in the hill. The paths were built by side springs of the river; the largest is crossed by a new stone bridge. The air is cooler and wetter here; it rains more often than in the rest of the valley.
Local children are covered with dust; they wear hats and suffer from endless runny nose. Initially they are a little scared, not knowing quite what to expect from us. The first morning we invite them into our room for improvised "health check". They are packed there, about a dozen at a time, when a flimsy shelf suddenly falls with a terrible roar and the air is full of clouds from overturned pot of flour. The six year old Norbu is standing without a shirt. He is motionless. Standing still beneath the shelf he became a ghostly white figure, absolutely stunned by surprise. As if suddenly something broke, the kids do not know whether to laugh or cry. And then they stop to fear us. The warmer atmosphere we support with a little vitamin candies.
Probably because of increasing number of candidates for examinations, children with a slight giggle occasionally conquer our room at six in the morning. But often they leave instead of vitamin with a dose of spray against lice.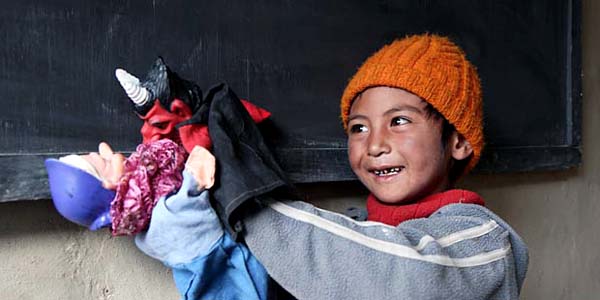 It takes awhile to acclimatize. We get easily exhausted just by constant lack of oxygen when walking around the village. The lack of oxygen forces us to remain in the kitchen and to cope with a low boiling point or the lack of running water. Finally, the omnipresent pressure cooker is starting to make sense. On the other hand, the ability to improvise is growing every day and we are realizing what people really need for life.

When tuition at the upper school ends, children begin to gather in the new lower school, eager for playing. They are grateful even for sewing course, although it sometimes turns into desperate ripping of wrongly sewn jackets and sleeves. Everyone in the group is constantly begging for attention by shouting "me, me, and me!" So while one of us is helping to one kid, elsewhere is becoming a sewing disaster. Finally, often after several attempts – we managed to fix even the torn pants from "snowboarding" on sandy slope. Yes, snowboarding, with feet bound to a cutting board. That is what children under the leadership Odzer recently invented.
Later in the creation of puppets the work calms down, the kids are a little more focused and try to be independent, even though the battle for pieces of colored fabric is sometimes unavoidable. Good experience is also an attempt to rehearsal short puppet plays. Once children understand the principle, all just want to play, and of course all at the same time. There is no option to wait until the previous scene is over. There is also a shortage of puppets. Small children, although initially tricked by a small dusty stuffed toy soon realize that puppet is a puppet. Children do not remember the English text so well, but they catch well the meaning of each scene and confidently speak in their own language. The result is an amazing chaos stunned parents and destroyed (but almost immediately corrected) wall.
Then the harvest begins and we quickly pack to set off home. It is just when we get to know each other better. So we leave the puppets for our children and continue our way, with lighter backpacks and cleaned head.
---
---