---
---
Waffles for Charity
4. 1. 2014
A group of volunteers in Belgium have helped to raise money for Kargyak children. They sold
Waffles on the street of Antwerp.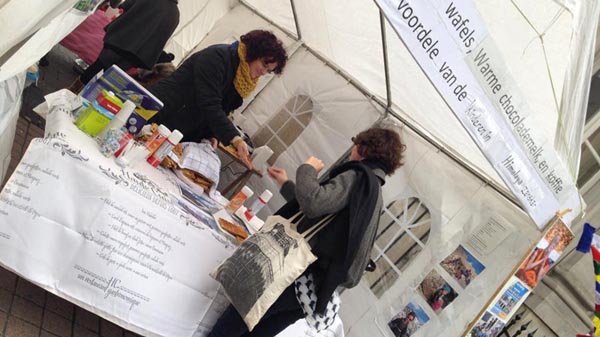 We would like to give our warm thanks to the activist of Charity Waffles Selling Event. It was a wonderful initiative from RYTC Antwerp, Belgium. They have raised money to cover a salary for our Urdu teacher and for our school keeper. We are grateful to their enthusiasm and the energy they put into the event. Many thanx to Bridget, Theo, Tenzin, Pema, Sonam, Songtsee, Anne, Tsewang and Els.
A letter from Tennam, our activist in Belgium

Dear Gabi, and Koda
First of all a very warm greetings here from Antwerp on behalf of the entire team who've worked hard one whole Saturday for Kargyak. It was for the children living high up in the Himalaya where everything seems much tougher.
We started from 9.00 in the morning. Theo and Birgit, they brought the necessary kitchen materials, tents, tables etc and etc. First we pitched up the tent and then we decorated the tent so that it looks much more attractive and charity oriented stall. Minutes after we have set up the tent, we started making coffee, choco-drink and the dough for the waffles. Many of us haven't got any earlier experiences on how to bake a waffle! Fortunately Theo and Birgit have done this before. We followed the instructions of Theo like a boat following the river.
The first dough didn't come out that good. We baked the dough till we could produce tens of waffles from dough of 1 kg flour, 8 eggs, 1 litter milk, 35 litter soda and a lump of butter. After all it was not that bad!

In the mean while the ladies were keeping themselves busy in selling the waffles to the passerby's. " Alles voor goede doel". Waffles voor 2 euro!" (Everything is for charity! Waffles for 2 euros) Thanks to the generous people who lined up immediately before our tent and started to buy waffles. I was thanking god. Oh it seems like it will go well! But we must keep the tempo! ""Volhouden! "" (Carry on).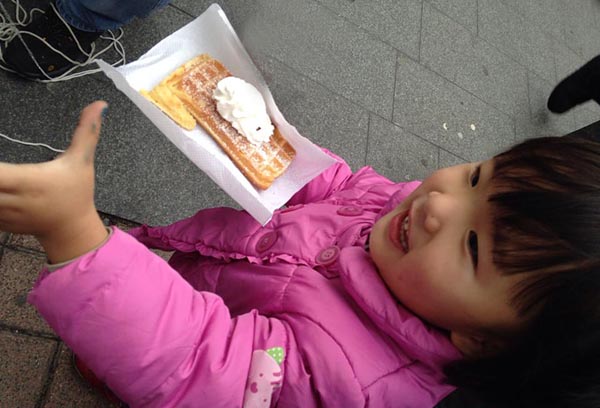 We kept the process on and on. "Make the dough, bake it and sell the waffles". Made the dough, baked it and sold the waffles. Many of us didn't even thought about having lunch, we just kept baking and the money was piling up. When we were hungry, we ate waffles and when we were thirsty, we drank water and choco milk.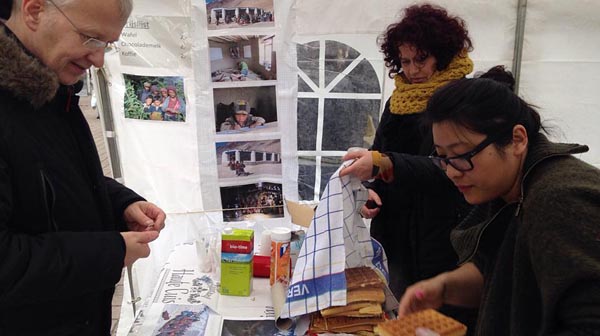 The clock struck at 7 when we are finally worn out, our ingredients all used out. Some of us then started to count the money and some kept busy dismantling the tent. We were extremely filled with joys when we came to know that we have almost raised the money which we need to.
Everyone greeted each other and applause the cooperation that we have had together. It was wonderful. Definitely a day not wasted. A day in the name of univeral brotherhood of humanity.


We are happy to announce that we have raised a sum of 1100 Euros selling waffles in a busy street of Antwerp.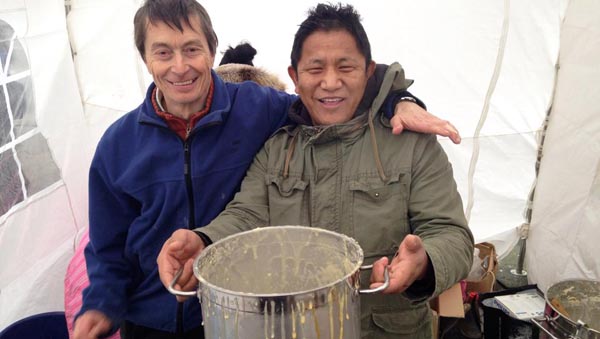 We can now almost pay a teacher's and a care taker's a year salary. Bridgit took the initiative to add her own money so that the required amount can be sent to BlueLand.
We thank all our volunteers for their undying support and enthusiasm.

With much regards,
Tenzin Namgyal
---
---